Discover more from Not a Doctor
Practical, not-panicky advice for a pandemic
If I'm going to get sick anyway, why bother staying home?
Social distancing and curve flattening: what is it, how does it work, and why should I do it?
Welcome to Not a Doctor, the only health and science newsletter that reminds you to call your mom.
I'm Melody Schreiber, a journalist and the editor of What We Didn't Expect, a book about premature birth that will (fingers crossed!) be published in November.
Today, I'm talking about a few new words you might have added to your vocabulary recently — and how to deal with this new stress and loneliness.
🌡 🌡 🌡
Changing the shape of an epidemic
Social distancing, flattening the curve — these are phrases many of us only learned a few days ago, and yet they have become an enormous part of our lives.
For those of you who aren't familiar with these terms, though, here's a quick explanation.
"Social distancing" are the efforts you make to keep yourself and others safe during the pandemic — staying six feet apart; not going out to bars, restaurants, stores, and gyms; canceling school; working from home if you're able.
"Flattening the curve" is when you take measures, including social distancing, in order to keep an epidemic from flaring up all at once — instead suppressing the cases so that they happen over a longer time period.
Why would you want to lengthen an epidemic?
Basically, when you're talking about flattening an epidemic's curve, you're acknowledging that there are going to be some cases. It's inevitable, at this point, that people will get sick. Probably many people.
So why bother staying home? Why not go out to the bar and let off a little steam for St. Patrick's Day?
Let's imagine everyone does go out. We all go about our lives, we shake hands and eat lunch in restaurants and we feel, on the whole, just fine. Even if we have the virus, we might not ever experience symptoms. And if we do feel symptoms, eight times out of ten, they're really not so bad.
But then we come into contact with other people. Friends and members of our families, people who have asthma and heart disease and cancer, people over the age of 60. They get sick — really sick — and they start going to hospitals for treatment, because they're having trouble breathing on their own.
Experiences in other countries tell us that this stage happens really fast when there are no measures in place. A few cases multiply into dozens over a week, then hundreds overnight.
And just like that, the hospital is overwhelmed.
🌡 🌡 🌡
Oh man, so things are going to be bad?
Things aren't going to be great. But how bad it is depends a lot on us.
By preventing this sort of spread early on, before things get really bad, we can keep from overwhelming hospitals too much. People still get sick, but they won't crowd the hospitals, and so doctors and nurses won't have to make as many excruciating decisions about who to treat.
When the hospitals aren't overwhelmed, they have enough beds and ventilators and oxygen masks. The staff can go home and get some rest. We have more time to order personal protective gear and other supplies.
(If you really like charts and graphs, especially ones that move, check out this great piece in The Washington Post.)
Social distancing is just one method of trying to keep an epidemic from growing worse. Dr. Michael Ryan of the WHO calls it a "poor substitute" for other aggressive public health measures — testing, treating, tracing cases, and supporting self-quarantines for affected people — that work a lot better in preventing pandemics. "But it may be the only option when you lose track of the virus," Ryan said.
When you can't do anything about a lack of tests, you can always keep a little distance.
But that doesn't mean it's easy. The pandemic isn't only going to be hard on our physical health. It's also a huge mental health challenge — from the worry and stress you may already be feeling to the sense of loneliness that self-quarantine and social distance bring.
Let's talk about ways to cope. But first, a little story.
🌡 🌡 🌡
What I didn't expect
Three years ago, almost to the day, my water broke. At first, I didn't realize what was happening. I thought I had more time; I was only 27 weeks pregnant.
But we went to the hospital and they confirmed it. The doctors and nurses miraculously managed to stop labor, and then there I was, on strict hospital bed rest. I could only get up to navigate my way carefully to the bathroom and back. I hoped I would be able to last six weeks in this way, giving the baby more time to grow.
I suddenly had all the time in the world, confined to a hospital bed and worried out of my mind about what would happen. Would my growing family be okay? What did the future hold for us?
And here's what saved my sanity: friends and family. Some people visited, bringing food and playing music and talking about their lives, the small and the enormous decisions they were facing.
But many others weren't able to visit in person, and so they called on the phone and video. Some friends sent daily emails, chatting as though nothing had changed. I loved them for that.
Eileen, the big-hearted visionary behind One More Page, my local indie bookstore, offered to bring whatever books I wanted from the store straight to the hospital. When the baby was born and our nursery felt hopelessly unprepared and empty, she and the rest of the staff gathered up their favorite children's books to begin our library.
(Bookstores are hurting right now, along with other businesses. If you can, please consider stocking up on orders — many bookstores deliver locally and ship nationally! — of either physical books or Libro.fm audiobooks. They've helped so many people through rough times; let's help them now.)
I loved all of these calls and messages and thoughtful gestures. It's what got us through that time.
I was reminded of all this on Sunday. Two weeks ago, a friend and I had made plans to meet in person — so much changed in that time. Instead, we switched to a video call. We talked about her recent vacation to Hawaii, and reminisced about our own trip there a few years ago. We talked about work and about little things, and she told an impromptu story to my kid.
For 45 minutes, life was normal. When we hung up, I felt light and happy.
So here's what we're doing: We're scheduling regular calls like this, just like you might schedule going to dinner or a movie or a play with a friend. We're reaching out to people we haven't talked to in a few years and asking them how they're doing. We're calling our parents (hi mom! yes I'll call you later!) and asking them what's good on TV.
Life can feel anything but normal right now, but these connections are what will get us through.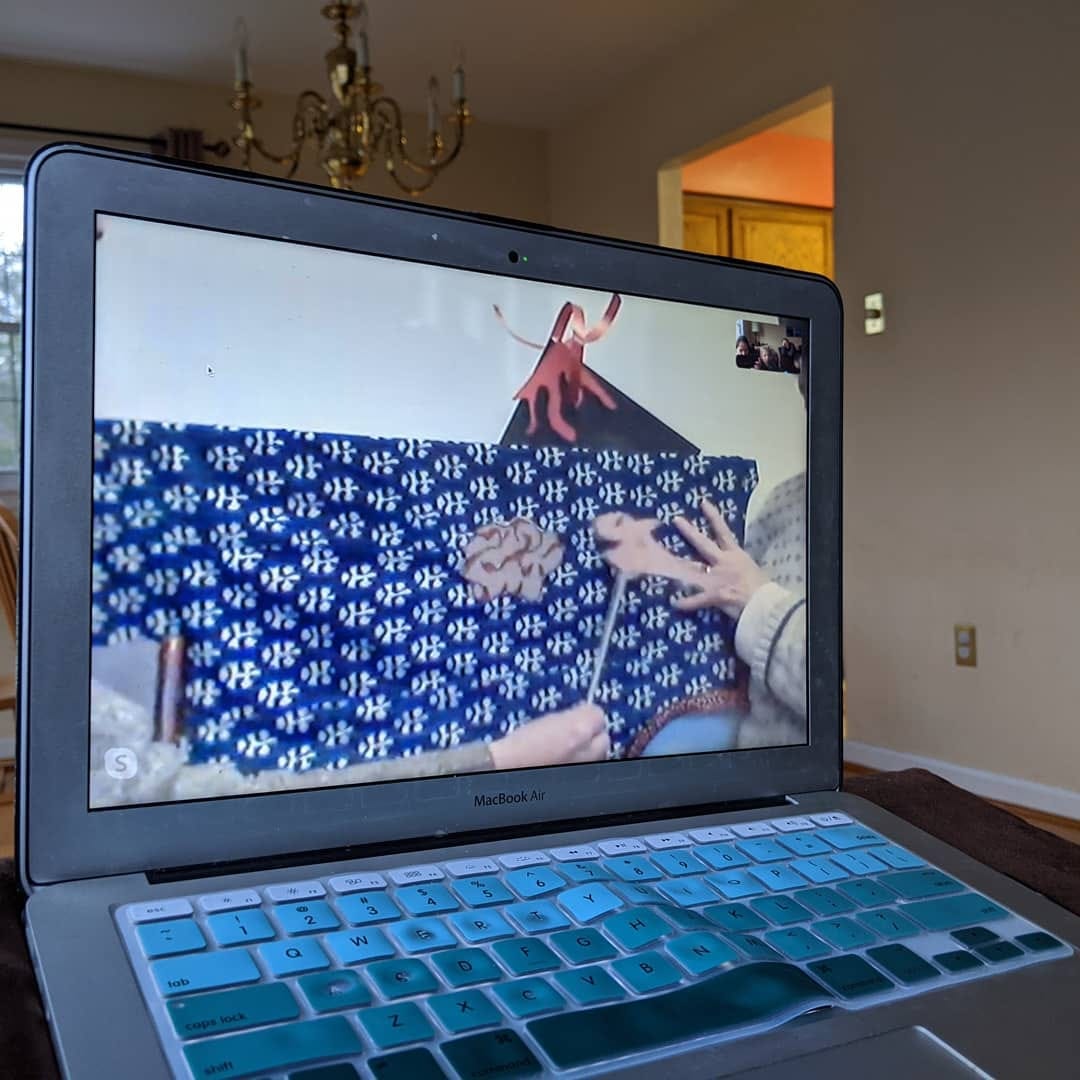 Grandparents stage a little play via video.
🌡 🌡 🌡
If you have any questions, concerns, feedback, or ideas for social connection across distances, please post a comment below or reach out to melodyaschreiber@gmail.com.
As always, if you know someone who might appreciate this newsletter, please feel free to share it with them.