Discover more from Not a Doctor
Practical, not-panicky advice for a pandemic
The economic case for addressing the pandemic
Does trying to go back to normal make economic sense?
Welcome to Not a Doctor, the only (free!) newsletter about health and science that talks about sexy public health measures.
I'm Melody Schreiber, a journalist and the editor of What We Didn't Expect (Nov. 2020). I'm not a doctor, or a scientist, or really an expert of any kind. I just like to ask questions and try to find the answers to them.
🌡 🌡 🌡
Getting back to normal?
This week, President Trump indicated that he's considering ending physical distancing* measures throughout the country.
"I would love to have the country opened up and raring to go," he said yesterday.
His reason? It's the economy, stupid. Staying at home, out of work, he said, is "not for our country, and we are not built that way."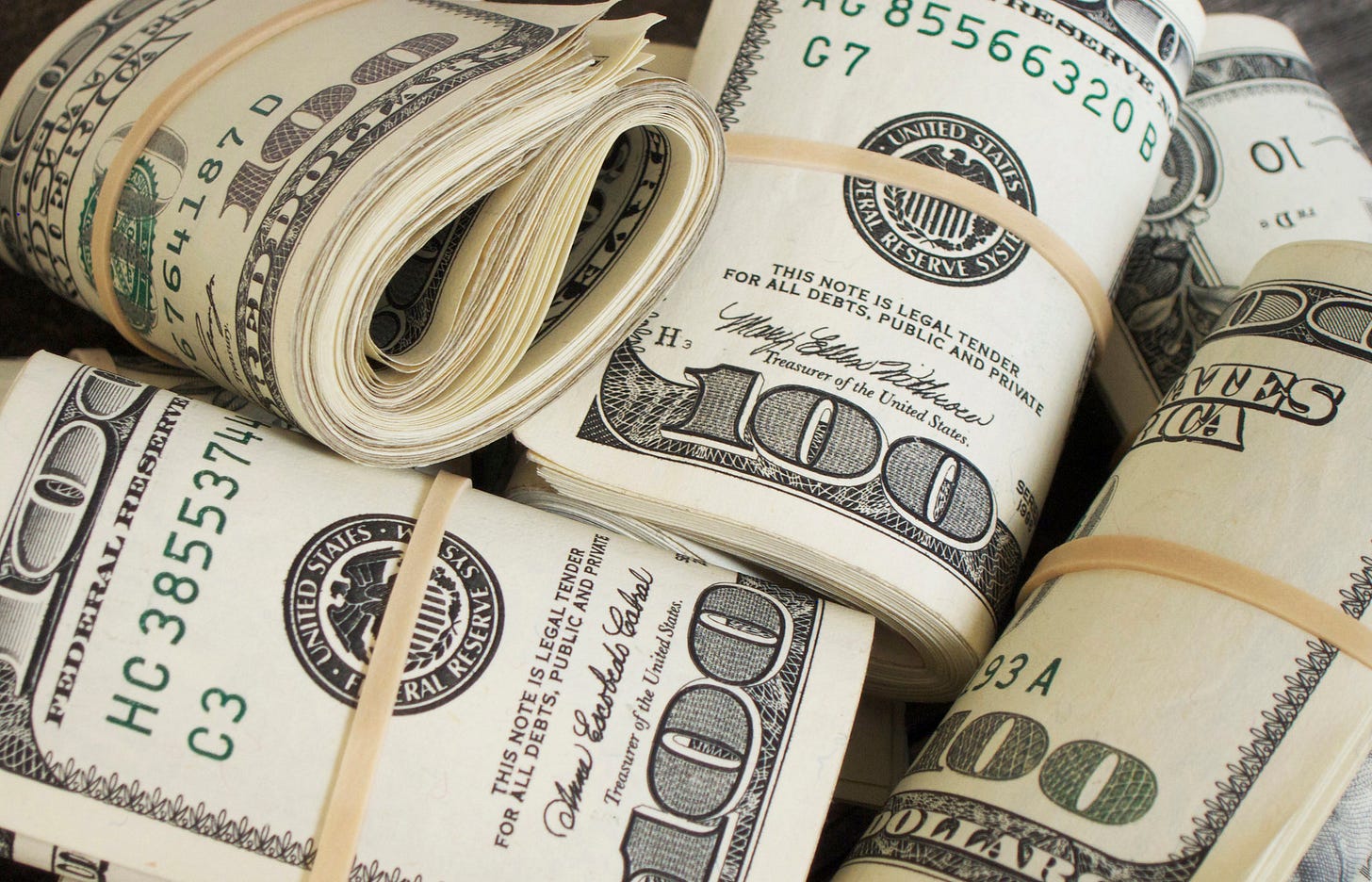 Photo: Flickr/Pictures of Money
Putting aside (IMMENSE) moral and ethical reasons to keep millions of people from becoming extremely sick or dying, this plan doesn't make a lot of economic sense.
"[T]he economy cannot be fixed without solving the pandemic," Dr. Ezekiel Emanuel at the University of Pennsylvania says.
Emanuel isn't just saying that because it sure would be nice to vanquish the disease first. As long as there is still a significant risk of getting sick and dying, very few people will want to hang out in restaurants and bars, go on vacation, catch a movie, attend church in person, and go car or house shopping.
At this point, there is no return to normal. It's not possible.
"Encouraging Americans back to work before the coronavirus is contained will not save the economy from catastrophe," Jordan Weissmann writes for Slate. "Rather, it will set the country up to limp along, half-functioning as the pandemic spreads further."
If the Trump administration does lift physical distancing recommendations, those who are able to will continue staying home and self-isolating, because there are still very real threats from the virus.
Those who do return to work are extremely likely to get sick, making them unable to work — and putting a costly strain on the health system, including insurance companies. (Imagine what that would do to premiums!)
And to put it in crude terms: Those who pass away will not return to the workforce.
Yes, there are massive economic disruptions during a pandemic. That is one reason why pandemics are bad — but it's not the worst one.
In many ways, too, this federal discussion is moot. In places where COVID-19 is already hitting hard, governors and other local leaders are unlikely to lift shelter-in-place orders.
And in places where it's still spreading, many leaders will continue to use these recommendations to curb the worst effects.
🌡 🌡 🌡
Addressing the pandemic would create jobs
Health experts and economists alike both agree on one thing: Quick action needs to be taken in order to save this country and its economy.
And the best action during a pandemic: sustained and supported public health measures. (Sexy, I know!)
If the Trump administration wants to rescue the economy as quickly as possible, the best course of action is to stem the tide of the coronavirus.
Many of these measures, in fact, involve creating jobs — employing more public health workers at drive-through testing centers and in hospitals, and more people manufacturing ventilators and personal protective equipment like masks and medical aprons.
New York City, for example, is hiring gig workers to deliver food to those most at risk for this virus — and the city is offering benefits (imagine it!).
Stopping the pandemic will be what resuscitates the economy. Allowing it to continue, more or less unabated, will unleash even more economic devastation.
But there's some good news: Economic devastation and the loss of life aren't our only options.
Aggressive government intervention in economic policies — granting paid sick leave and guaranteed income, such as unemployment benefits, for instance — would help keep the economy afloat while allowing physical distancing to continue.
In the meantime, four months after its epidemic began, China is trying to restart its economy without triggering a second wave of the virus. How they do it could be instructive for the rest of the world. But one thing's clear: they didn't do it after two weeks.
🌡 🌡 🌡
Glossary
physical distancing (also known as social distancing): the efforts you make to keep yourself and others safe during a disease outbreak — for instance, staying six feet apart; not going out to bars, restaurants, stores, and gyms; canceling school; and working from home when possible.
🌡 🌡 🌡
As always, please leave a comment below or email me with any questions, concerns, feedback, or ideas for pandemic jobs at melodyaschreiber@gmail.com.
In the meantime, if you know someone who might appreciate this newsletter, please feel free to forward it to them.